Speaking from experience, letting go and releasing can feel like quitting. However, if it's done with intentionality and from a place of deep reflection there is so much growth and expansion that takes place. Last year around this time, Ease Yoga was running classes on the lawn under a tent in front of the studio at Commonwealth and Mount Vernon Avenue in Del Ray. Our membership was dwindling. Classes were smaller than usual. We could no longer afford our two studio managers. The pandemic was showing no signs of lightening up. Our landlord expected full rent. The colder weather was coming. I was burnt out.
Driving our son home from school one day, I lost my temper with him and came home crying uncontrollably. I'd hit rock bottom. There was the stress of converting a living, breathing studio to a two-dimensional, screen-based virtual studio the minute after the pandemic hit. Holding classes through rain, wind, street construction and the hot sun had taken its toll. Many of our teachers had moved into the virtual world and created their own small businesses. No amount of deep breathing, yoga, meditation or walks in the park could bring me back.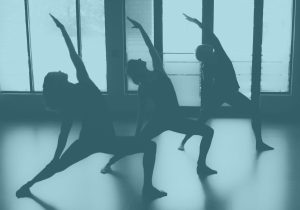 I began to ask myself: What if I let go? What if Ease didn't exist? Ease was my fourth child, birthed from a dream and grown into a flourishing young business. So many people in the community thanked me for creating such a loving, healing and welcoming space. But now, I was hurting. It was no longer the crowded reception room on Saturday and Sunday mornings where yoga students young and old brushed by one another on their way to amazing classes and where teachers and students connected, moved, breathed and healed together.
It took deep inner strength to release Ease. Over time, my life as a yoga teacher who was not in charge of all the planning, organizing, marketing, bill-paying, broken toilet-fixing and lightbulb changing started to feel good. To picture myself as a student who could attend many yoga classes to take care of myself and teach when and where I wanted to, and when my cup was full, also felt invigorating. To sign up to learn more about mindfulness and meditation and earn a teaching certificate felt like a goal I could never attain while being in charge of the studio.
So I did it. I let go of Ease. There was a lightness in my body and soul when I made the final decision. I found a great therapist with whom I could talk through it all. I signed up for a two year Mindfulness and Meditation Teacher Certification Program with Tara Brach and Jack Kornfield. Letting the many members of the Ease community know about the closing was difficult and led to many more tears. But do I regret letting go? Not at all.
Do I miss Ease and the community we created? Absolutely. However, I still run into many of our clients at classes with former Ease teachers. At the same time, our monthly Women's Wisdom Circle continues the first Wednesday of every month. Embracing UnEase – Racial Discussion Through the Lens of Yoga also continues. I have a few private clients that I enjoy working with. Becky Sutton and I have sold out our annual retreat to Nosara, Costa Rica for this coming February. I am volunteering my time with Sara Vandervoot to create this blog and a holiday gift guide for the wellness community in Del Ray. I am seven months into the deep wisdom of my mindfulness and meditation course and looking forward to sharing all of my learnings with each and everyone of you very soon. I am happier, healthier, a better mom, wife, sister and friend for creating Ease and for letting it go. I am looking forward to what the future holds.
I share my experience with you in the hope that if there is something you are holding onto that needs to be released my story will give you the strength to see the opportunities, growth, and expansion that are possible in the letting go. Not all letting go is quitting, but rather the clearing of a field for the sowing of new seeds.
And to those businesses who continue to endure this pandemic, I'm sending each of you a high ten. You are all amazing. I can't imagine how difficult it has been. Wishing you all well. Thank you for all you give to our community.
You can message me at tara@easeyogacafe.com. Sending blessings and love to the entire community of Del Ray and Alexandria.