I must confess I had to extend my deadline for this post submission a week because I decided to rewrite my original blog. I told Dr. Lola Capps that it was too heavy. She laughed and said "that makes me want to read more." Thanks to Lola, please be aware that this is somewhat heavy. May you find the space to digest it slowly.
In general, I would rate myself pretty high on the gratitude scale (if there is such a thing). LOL.
Growing up in a poor and tumultuous home, it was easy for me to find gratitude in simple things like a roof over my head, a warm bed at night, and a well-fed tummy. These days I have gratitude fro my well-coordinated hands and fingers that serve my craft as a dentist and the opportunity to create a peaceful space for my team and my patients.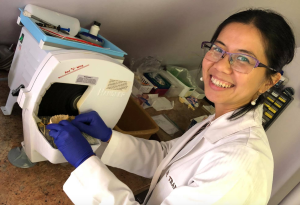 In the past couple years, I've learned another layer of gratitude. I'm not only grateful while going through suffering but also grateful for my suffering. I felt like I was on a roller coaster physically, financially and mentally while going through a difficult divorce. I was not only dealing with my own suffering by breaking away from twenty-two years of marriage, gut also witnessing to boys' pain. The only thing I could do was learn to sit with them in their pain. It was hard to watch them lose their innocence so early. It was hard to feel like I'd failed my boys and ruined the ideal perfect family image. It was hard juggling single parenting with my kids' activities, child care in the virtual schooling world, managing my small business, and being there for my team members and my patients.
Yet, in the midst of that chaotic, messy and painful time, I finally understood and acknowledged my pain. I refused to paint a perfect rainbow without rain. I refused to put a bandage over the wound that never heals if proper cleansing doesn't take place. I told my patients all the time that putting a filling over a cavity without cleaning it properly leads to a root canal or worse, losing a tooth. As a human being who is motivated by pain, I embraced my pain, and found the courage to walk in the rain.
In the rain, I finally looked around and saw that there were others on the journey too. Some were walking right beside me, extending their umbrellas. Sometimes I extended my umbrella when my arms were not too tired to hold it. Sometimes my fellow sojourners and I witnessed a beautiful rainbow in the sky. Sometimes, the rain kept coming hard for days and my only choice was to accept being wet and perhaps even dance in the rain.
It is in the rain that I confidently know that I'm God's beloved.
As much as I still resist suffering, I'm grateful for the lessons of resilience, courage, vulnerability, humility, and the quiet depth of compassion for self and others.
My Del Ray friends, I see you and I see your sufferings too. May we continue to meet each other in the space of kindness and acceptance. I am not perfect. We are not perfect. But I am good and you are good too!
I leave you with these beautiful messages from my faith:
"You're blessed when you're at the end of your rope. With less of you there is more of God and his rule."
"You're blessed when you feel you've lost what's most dear to you. Only then can you be embraced by the One most dear to you."
"You're blessed when you're content with who you are—no more, no less. That's the moment you find yourself a proud owner of everything that can't be bought."
"You're blessed when you've worked up a good appetite for God. He's food and drink in the best meal you'll ever eat."
"You're blessed when you care. At the moment of being 'care-full' you find yourself cared for."
"You're blessed when you get your inside world—your mind and heart—put right. Then you can see God in the outside world."
"You're blessed when you can show people how to cooperate instead of compete or fight. That's when you discover who you really are and your place in God's family."
"You're blessed when your commitment to God provokes persecution. The persecution drives you even deeper into God's kingdom."
The Del Ray Smiles family are grateful for each and everyone of you!
Namaste from the depth of my heart,
Julie Tran