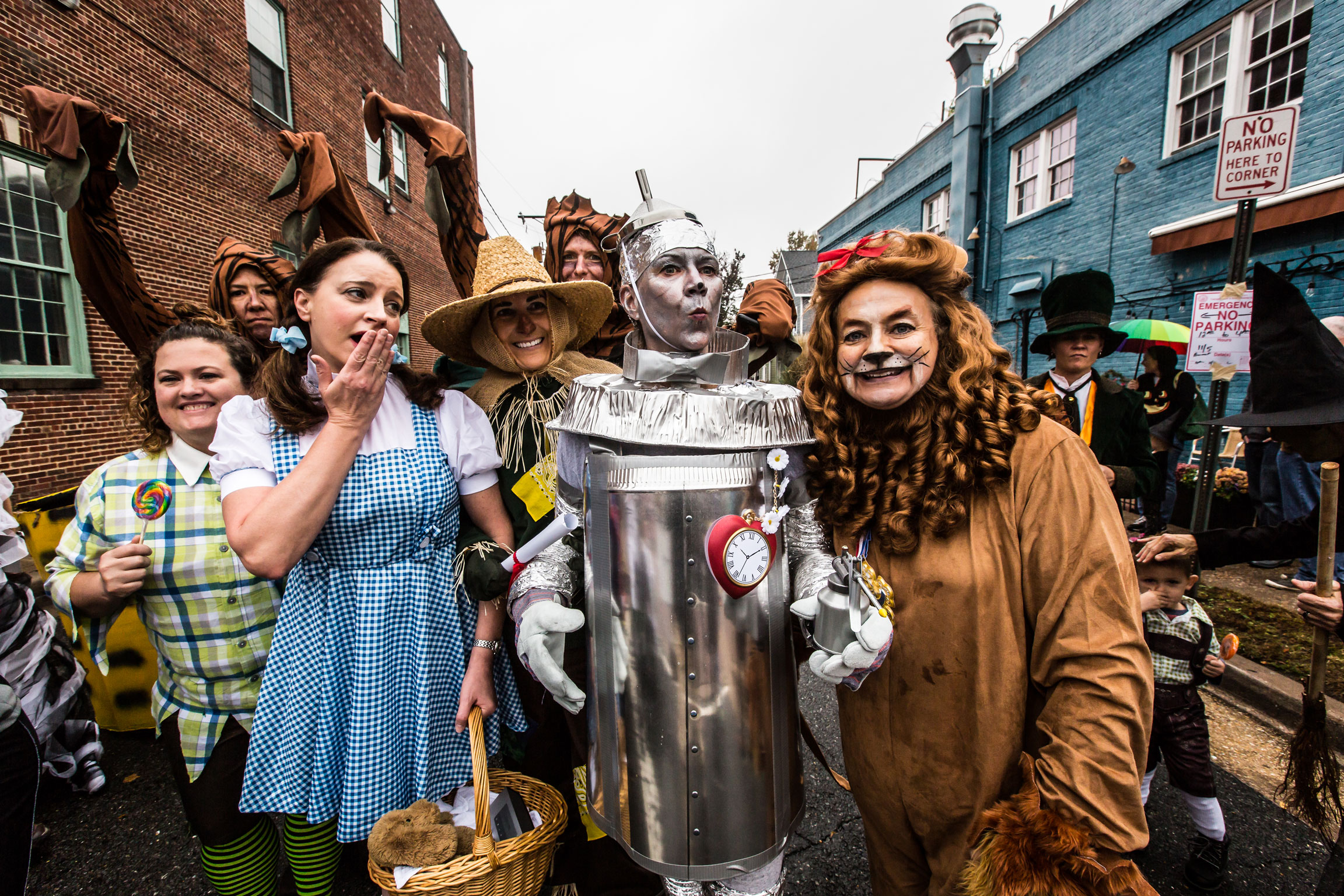 One of Del Ray's favorite traditions, the 26th Annual Del Ray Halloween Parade, will take place Sunday, Oct. 30 at 2pm.  The parade begins at Mt. Vernon Avenue south of E. Bellefonte, and continues down to the Mt. Vernon Recreation Center fields at Mt. Vernon and Commonwealth Avenues for live music by Mars Rodeo and an awards presentation for the pet & stroller contests, plus best decorated house and business.  All are invited to march and show off their finest Halloween garb!
A spooky scavenger hunt, Boos & Brews at select restaurants on Oct. 29, and a donation drive for costumes for children in need round out the festivities surrounding one of our community's favorite holidays.
BEST DECORATED HOUSE & BUSINESS CONTESTS
VOTING IS NOW OPEN for the People's Choice Award for Best Decorated Halloween House!  For over 30 years, local residents and businesses have gone all out decorating for Halloween, competing for bragging rights for best decorated house and business. Get in the Halloween spirit by visiting the top ten house nominees; click here for the map and click here to vote!  Thank you to The Jen Walker Team for sponsoring this favorite tradition!
PET COSTUME & STROLLER CONTESTS
Registration for the Pet Costume Contest and Stroller Competition will be done prior to the parade start. Stroller and pet entries must register by 1:30 p.m. at the corner of Mt. Vernon and E. Howell Avenues; look for signage. Once registered, strollers will line up on Howell to be judged prior to the parade. Pets will be judged immediately at the end of the parade route. There is no fee to register.  Special thanks to the Homes of Alexandria Team of Compass and Your Dog's Best Friends/The Dog Store for sponsoring this fun event!
Pet Costume Categories: Creative, Team, How Could You Do This To Me?, and Vola Lawson Best of Show
Stroller Competition Categories: Creative, Humorous, Best Group or Family, Less is More, and Overall
DONATION DRIVE FOR THE ALEXANDRIA DOMESTIC VIOLENCE SAFEHOUSE
The Alexandria Domestic Violence Safehouse is in critical need of food donations.  Let's fill Pat's truck at the 26th Annual Del Ray Halloween Parade on Sunday at 2pm!  Drop off your non-perishable food donations at The Wellness Junction lot, located at 1900 Mount Vernon Avenue (right at the start of the parade!)  Can't make it to the parade?  Donations can also be dropped off at Gayle's porch, located at  110 E. Del Ray Avenue.  Thank you for supporting this worthy cause!
HALLOWEEN SCAVENGER HUNT
Walk the Avenue (in costume or not!) and find Halloween-themed items in Del Ray's decorated businesses.  The hunt begins on Saturday, Oct. 22; five winners (randomly selected from all entries) will receive a $50 gift card to their favorite Del Ray business.  Use these clues to find the answers outside the Del Ray businesses along Mount Vernon Ave, between  Braddock Road & Raymond. Submit at least 15 answers through the witch's mouth at the Pat Miller Neighborhood Square (Oxford & Mount Vernon) by 10/31/2022 to be entered into a drawing for one of FIVE $50 gift cards to your favorite Del Ray business!  Thanks to Kinneman Insurance for sponsoring this Halloween activity!
UPDATE: All winners have been notified.  Del Ray Halloween Scavenger Hunt Answers 2022.
VOLUNTEERS NEEDED!
We can't have a parade without a lot of volunteers! Click here for a complete list of volunteer needs, and to sign up to help make this Del Ray tradition happen.
SPONSORSHIPS
This neighborhood favorite is made possible by support of our local businesses.  Thank you!