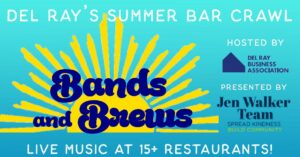 Join the fun and vibrant Del Ray community for a special summer event, featuring live music in outdoor restaurant venues along the Avenue! Bands & Brews: Del Ray's Summer Bar Crawl takes place on Saturday, August 19th from 12:30-6pm.  This event is being brought to you by the Del Ray Business Association, sponsored by the Jen Walker Team,  and will benefit Friends of Duncan Library.
Register now – the first 250 registrants will get a swag bag with a branded water bottle! Advance tickets are $15 ($25 at the door), and include specials on cocktails, beer, and food at each of the 15+ participating restaurants, live music at every venue, trolley transportation, 50/50 raffles, a photo booth, and many more fun giveaways. You must be 21+ to participate in the crawl, but children and families are welcome at family friendly establishments and at the main stage at Pat Miller Square. Please keep in mind that this is likely to be a high volume event.
Check-in starts at 12:30 pm at Northside10 (10 E. Glebe Road), Lena's Wood-Fired Pizza & Tap (401 E. Braddock Road)  and at Pat Miller Square(2312 Mount Vernon Avenue) after 2:30pm. You must check in at one of the locations to receive your bar crawl ticket.
AVAILABLE SPONSORSHIPS
PRESENTING EVENT SPONSOR (1): SOLD OUT
KOOZIE SPONSORS (2): $500 – SOLD OUT
FAMILY ZONE AT PAT MILLER SQUARE SPONSOR – SOLD OUT
THE "NEST" BAND SPONSOR ($750)- SOLDOUT
TROLLEY SPONSORS: $400 Shared Side Trolley Remaining
We are looking for sponsors to help cover the cost of two Trolleys that will transport people along the restaurant route from 1-6:30pm. This will keep people moving safely, draw more people, and encourage greater restaurant participation. Each sponsor will have one 3×6 Banner on the trolley.  Two smaller banners will be on the street side of the trolley  and one banner will be on the opposite side of the trolley.  Street side banners will be assigned on a first come, first serve basis.. Sponsors will also be recognized on advertising materials. Sponsors must provide their own 3'X6' banner.
($750 Sponsor would be able to hang up to a 3 x 12 banner on the pedestrian exit/street side and be the sole banner on that side)
*Businesses can join together on a banner. 
CUSTOM WATER BOTTLES(1 Remain)–$500 
Your one-color logo will appear on the 250 custom reusable water bottles, handed out to 250 participants. (Total 2 listed sponsors).  Sponsors will also be recognized on the event and on social media.Your logo must be available in vector format.
THE "FIELD" BAND SPONSOR ($750)
The "Field" lot next to Gustavo's Brassiere) will be a musical stage area featuring two live musical acts throughout the entire crawl. The Sponsor is eligible to hang their promotional banner at the venue for the entire event time (1-6pm). Sponsors must provide their own banner (2×4 or 3×6). Sponsors will be given recognition on social media and on event programs. You must provide a logo (Preferably Vector).  2 Complimentary Crawl Tickets are included with this sponsorship.
T-SHIRTS & TANK TOPS (4 remaining): $300
There will be collectors bar crawl t-shirts and tanks worn by all volunteers and sold to the public at the event. T-shirt sponsor logos will be featured on the back of the shirt in addition to the presenting sponsor in one solid color.. You must have your logo available in vector format. 
SWAG BAG SPONSOR (10): $100 
Swag bags will be given out to 250 participants at the bar crawl and will be filled with local goods and other swag. Sponsors will be featured on each printed nylon swag bag, in the event program, and will be recognized on social media. You must have Provide a log (preferably vector) 
PORT-A-JOHN SPONSOR (2): $50 (3 remaining)
Sponsor one of the necessary Port-A-Johns on a crawl day. Your logo and a funny saying (optional) will be printed on a 8×11 sign that will be mounted to the front of the mobile bathroom unit. Sponsors will be recognized on social media. 
FRIENDS OF THE BAR CRAWL: $25
This sponsorship is for businesses or citizens who are supportive of this popular fundraising event and/or the Friends of Duncan Library. Friends will be printed on a sign that will be featured at Pat Miller Square in the family zone and will be given a shout on social media. 
Your sponsorship is confirmed once payment is processed. Questions? Contact drlaurenfisher@gmail.com