Known for its top-rated fitness studios, holistic health professionals, and the neighborhood's healthy vibe, Del Ray earned the nickname "Well Ray" — the inspiration behind the community's annual health and wellness festival, which returns after a two-year hiatus on Saturday, June 11 with the theme Igniting Wellness Through Movement.
The 7th Annual Well Ray Festival will take place on Mount Vernon Avenue in the heart of Del Ray, this free, family- and pet-friendly event features over 75 health and lifestyle-inspired vendors offering free fitness classes, demonstrations, and sample treatments such as health screenings, massages, acupuncture, physical therapy, nutritional assessments, and reiki energy treatments.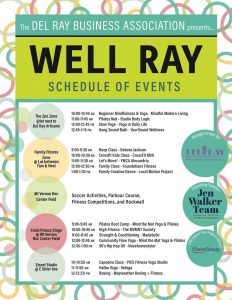 Here are some can't miss festival picks:
Discover Your New Favorite Workout: Alexandria's top fitness professionals will offer a variety of free 45-minute classes including yoga, Pilates Boot Camp, HIIT Classes, boxing, Barre, cycling, dance classes, meditation, and even a hula hoop class and 90s dance party. Visit www.wellraydelray.com for the complete schedule and free advance registration (but hurry – note that some classes have limited availability!).
Get the Whole Family Moving! Well Ray features plenty of family-friendly activities to the kids moving while having fun, including field day-style games and soccer challenges. Don't miss the Crossfit Kids' classes and family boxing lessons with Foundation Fitness!
Reach New Heights: After a sweat session during a free fitness class, reward yourself with a view from top of a rock climbing wall, fitness challenges, a dance party, or fun photo zone.
Be A Ninja: Parkour — the sport of moving rapidly through urban environments, negotiating obstacles by running, jumping, and climbing — was brought to Alexandria by the team at PK Move. The program creates a workout from any environment, and has been proven to help reduce falls for seniors. Test your agility at their Well Ray course!
Connect Mind, Body, and Spirit: The wellness community in Del Ray firmly believes that wellness is more than just physical fitness. Visit Mindful Modern Living, an online and in-person community hosting a range of classes, workshops, retreats, and casual socializing events specializing in interpersonal relationship skills and mindfulness practices, for a beginner mindfulness meditation. Or let the vibrations of gongs, crystal bowls and chimes to wash over you during a Gong Sound Bath with Sound Wellness.
Bring Your Best Friend!: Learn more about canine fitness and conditioning with Wholistic Hound Academy. Alexandria's first and only training and learning center for people and their dogs will provide demonstrations to help show how dogs learn body awareness, increase balance, flexibility, muscle tone, strength, and build confidence. And wellness is not just for humans – bring your furry friend to K9ZENTIME for a mini-massage session and learn how pups can release stress, tension and tightness through dog massage.
Give Back: Celebrate health and wellness by helping save a life. The Inova Bloodmobile will be at the intersection of Mt. Vernon and Raymond Avenues, featuring a special giveaway. Visit tinyurl.com/wellrayblooddrive for more information on donation requirements and to make your appointment.
Win! Well Ray registration is free, and available at wellraydelray.com. All registrants will also be entered into the Well Ray raffle for a chance to win great prizes, including gift certificates for athletic wear, MedSpa, Reiki, yoga, and more.