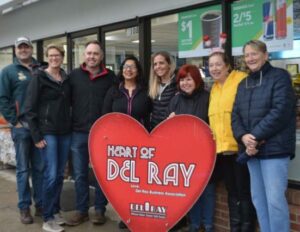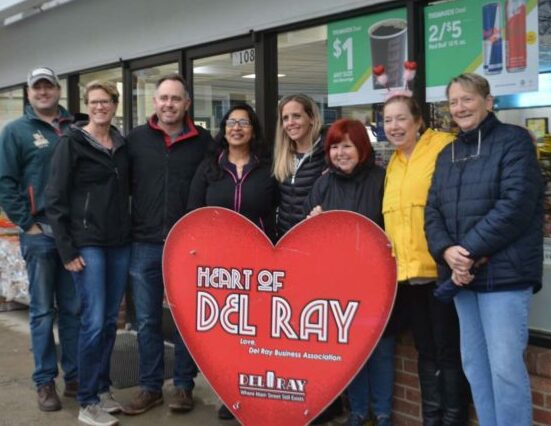 The Heart of Del Ray Award is presented annually by the Del Ray Business Association to the business that the community feels serves as the heart and soul of Del Ray.
On Jan. 30, we will announce the five finalists and open up voting by the community.  Before voting begins, we want YOUR nomination for who you think should be one of the five businesses on the ballot. The Del Ray Business Association Board will then take into consideration all the nominations and comments in order to determine the five finalists.  Voting will take place Jan. 30 to Feb. 8, with the winner presented with a giant heart on Friday, Feb. 10.
Nominations should be based on which business best demonstrates a warm and welcoming attitude to the community and customers, their commitment and generosity to the community, and to their overall contribution to what makes Del Ray the best place in the world to eat, live, work and shop.  In other words, what business warms your "heart" when you hear its name?
Please note that a business may only earn the award once.  Former winners of the Heart of Del Ray Award are:
2009: A Show of Hands
2010: Jen Walker, McEnearney Associates
2011: Bobi Bomar, Homes of Alexandria/Compass
2012: The Neighborhood Pharmacy of Del Ray
2013: The Greener Cleaner of Del Ray
2014: Del Ray Pizzeria
2015: Mind the Mat Pilates & Yoga
2016: Caboose Cafe
2017: Del Ray Cafe
2018: Pork Barrel BBQ
2019: Taqueria Poblano
2020: Ms. Preeti's 7-11
2021: Dolce & Bean
2022: Lena's Wood-Fired Pizza & Tap
Nominations must be be submitted by 5 p.m. on Friday., Jan. 27 by filling out this form. 
Remember – we are just soliciting nominations – we are NOT voting yet. The five finalists will be announced on Jan. 30, with voting taking place Jan. 30 to Feb. 8.
Thank you in advance for your nomination!