Take a break from the bustle of holiday preparations and enjoy specials at 15+ Del Ray restaurants during a neighborhood bar crawl on Saturday, December 10th from 12:30 p.m. to 6 p.m.  The beneficiary this year is Mount Vernon Community School's Blessings in a Backpack, which mobilizes communities, individuals, and resources to provide food on the weekends for school-aged children across America who might otherwise go hungry. The first 250 registrants (to purchase tickets) will earn a swag bag of goodies, including a collectors bar crawl cup. 
Advance tickets are $15 or $25 at the door and include cocktail, beer,  and food specials at venues, trolley transportation, 50/50 raffles, grand prize raffle, trivia contests, swag giveaways, photo booth by Snap Stream, and a costume contest (3 awards for best dressed individual, couple, and group). Crawl T-shirts are available for purchase until supplies run out. 
Check-In Locations:
Lena's Wood-Fired Pizza & Tap (401 E. Braddock Road): 12:30-3PM
Northside10 (10 East Glebe Rd): 12:30-3PM
Hops N Shine (3410 Mt. Vernon Ave): 12:30-3PM- Full
Pork BBQ (2312 Mt. Vernon Ave): After 3PM
Want to attend for free? Volunteer at the event and earn a free shirt and pass to the crawl. Click here to
SIGNUP.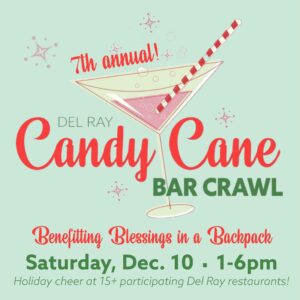 Thank you to our event sponsors!!!!